We repair
HIGH-RES PHOTO DOWNLOAD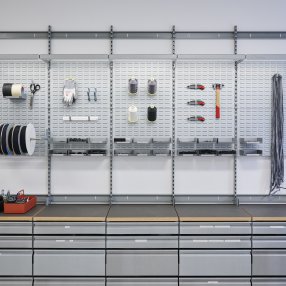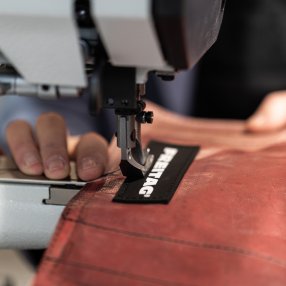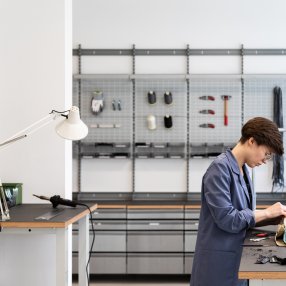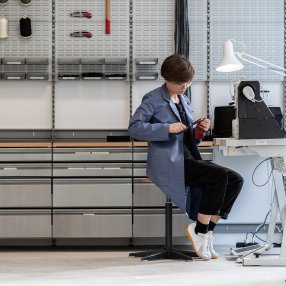 FREITAG REPAIR STATIONS
For almost as long as FREITAG bags have been around, we've been extending their lives with a range of repair services. It doesn't only make them more beautiful. It's more sustainable too, and therefore better in general. Here you can find out why and how we repair stuff and what you can do with your damaged FREITAG product.
In order to avoid losing sight of the bigger picture (aka the circular economy) in this jungle of torn Velcro fasteners and zippers, broken buckles and smaller or larger holes in tarps, we've created the FREITAG Repair Principles.
WE REPAIR THINGS AS LOCALLY AS POSSIBLE
If doing repairs and meeting circularity principles is a good thing, we also want to reduce our footprint to the minimum when it comes to shipping. In practical terms, this means that we're in the process of establishing a network of regional repair stations.
WE REPAIR THINGS WHEN THEY'RE DAMAGED
We patch things up to make them functional again, not to make them look new. Signs of use and aging are what we call patina and are an expression of character.
WE REPAIR THINGS WHEN IT'S POSSIBLE
We always try to make the impossible possible. But sometimes that hole in the tarp is just too big, or the tear in the worst possible spot. We shouldn't forget that we work with used truck tarps. They come from a wide range of manufacturers and they often behave quite differently.
WE REPAIR THINGS WHEN IT MAKES SENSE
Repairing things is always a good idea. But sometimes it makes more sense to have the open seam on your keyholder sewn up by the shoemaker around the corner, rather than to send a little item like that overseas and back.
Depending on the Repair Station's workload and the time it takes your bag to travel back and forth, the repair should take around six to eight weeks.
Obviously, we can't tell you the exact cost of a repair, until we've taken a closer look at the bag. It all depends on the time and effort involved.
Minor jobs, such as replacing a single buckle, cost about the same as an F232 MO.
But major repairs, such as reconstructing a big hole in the tarp, will cost as much as an F558 LEONARD.
And everything in between costs – you've guessed it – something in between. And if you're a member of the F-ederation and have registered your damaged product, we'll repair the item for free during the first three years.
In our spare parts store you'll find parts such as screws, buckles, rubber keeper loops and buttons that you can replace yourself or give to a shoemaker you trust.