F645 PHELPS
HIGH-RES PHOTO DOWNLOAD
Please mention the photo credit (see image caption)
THE F-ANCY PACK
The small cross-body or fanny-pack bag is the first FREITAG product with stealth technology. Made from empty PET bottles, it looks from a distance like a uniform, textile fanny pack – but is in reality a secret one-off.
F645 PHELPS is a cross-body bag with concealed truck tarp that can also be worn on the hips: a lightweight option for all those tight-lipped, practical thinking individualists who prefer to give a discreet insight into their idiosyncrasies in the midst of the party crowd.
always there if you need a quick getaway, thanks to fast-closing magnetic belt fastening
zippable main compartment, big enough for a PET bottle, a small umbrella, a giant banana or a few other trinkets 
compartment for valuables and other secret stuff 
materials: used truck tarps and water-repellent PFC-free material made from 100% recycled PET bottles using water-saving process by our production partner We aRe SpinDye®
Technical information
Launch: March 14, 2019
Dimensions: 300 × 50 × 150 mm, 15.7 × 3.9 × 10.2-14.1 inch (l × w × h)
Volume: 1–2 liters
Price: CHF 98.– / EUR 95.– / GBD 80.– / USD 120.– excl. TAX / JPY 15'200.– / CNY 820.– / KRW 144'000.–
Available in the colors Black, Marsala and Foggy Blue at all FREITAG Stores, selected resellers, and at freitag.ch.
Moving Images
For downloading right-click on animated gif: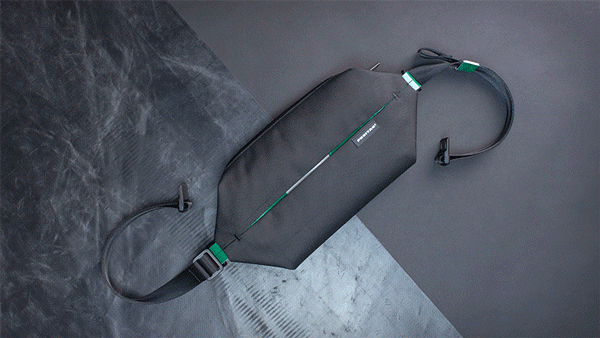 TARP ON PET
FREITAG VENTURES BEYOND ITS TRUSTED TRUCK TARPS
FREITAG, the Zurich-based company known for its recycled truck tarps, is now expanding its bag line by launching four new and innovative ToP products (Tarp on PET). They will be made from individual, used truck tarps combined with a flexible, robust and lightweight textile of 100% recycled PET plastic bottles.
FREITAG fell in love with truck tarps in 1993, and still feels pretty much the same as the very first day. But now, after more than 25 years, the Zurich bag manufacturers are looking beyond their beloved truck tarps; as rugged and unique as they are, there are certain criteria the tarps simply can't meet. The ToP products are just as unique as every bag from FREITAG – thanks to the continued inclusion of truck tarps – but also soft, light, and flexible thanks to a textile made from PET bottles dyed with a water saving process.

MADE OF TARP AND PET
FREITAG ToP products (Tarp on PET) are made from discarded truck tarps and recycled PET plastic bottles. The PFC-free material from our partner is made of 100% recycled PET and is colored by integrating the spin dye method, which uses much less water and energy and far fewer chemicals than conventional piece dyeing methods. More details: www.freitag.ch/tarponpet 
For downloading right-click on animated gif: